Congregation Kadimah-Toras Moshe is wishing you and your family a Happy New Year.
R. HALBFINGER MEMORIAL PROGRAM
Tuesday, Sept. 26 at 7:30pm
Repentance and Character
An Evening of Torah Conversation in Tribute to
Rabbi Abraham Halbfinger Z"L
Rabbi Jason Strauss, will be in conversation with
Rabbi Aryeh Klapper, Dean of the Center for Modern Torah Leadership, and
Rabbi Barry Hartman, rabbi emeritus of Ahavat Achim in New Bedford.
Note that the KTM parking lot is unavailable.
Parking is permitted on Washington street in Brookline.
Pre-Selichot Program
Join Kadimah-Toras Moshe this Saturday night, September 16 for a Pre-Selichot Program to get ready for the High Holidays! At 11:15 pm, Rabbi Jason Strauss will introduce the evening with a short talk on the topic of "G-d Dons a Tallit: the Covenantal Power of the 13 Attributes of Mercy." Dr. Jesse Hefter will then lead us in singing and music as we (re-)learn the popular tunes of the High Holidays. At 12 am, Dr. Hefter, our High Holidays cantor, will lead us in the first recitation of Selichot.
Please keep in mind that there will be limited parking due to construction work so consider walking or parking on Washington St.
KTM Hospitality for Rosh Hashanah & Yom Kippur 2017
KTM Rosh Hashanah and Yom Kippur Hospitality 2017 FORM
Welcome to the Congregation Kadimah-Toras Moshe 2017 Rosh Hashanah & Yom Kippur Hospitality Form. This form is to be used both for those looking for hospitality and those able to provide hospitality for others. Even if you are unable to provide any hospitality, filling out this form will help the KTM Hospitality Committee out so that they do not ask you unnecessarily if you are able to host.

This form is for meals. If you would like a place to stay for any part of Yom Tov, please contact one of the committee members below as soon as possible.

We are normally able to place all our guests, though it sometimes takes until the deadline.
Please fill out the form by 7pm, Sun. September 17th, and you will be contacted by Monday evening, September 18th for Rosh Hashannah, and by Wednesday evening, September 27th for Yom Kippur.

Please note that you can always update your information and requests by filling out a new form. If your plans change after you have filled out the form, please fill out a new one or otherwise reach out to the Hospitality Committee to let them know of the change. For updates September 17th or later, please contact a member of the hospitality committee directly.

If you have missed the deadlines or otherwise need to get in touch with the hospitality committee, contact hospitality@ktmshul.org or call/text Eileen Houben directly at 617-319-0182, or Marina Croll at 614-425-8601.

KTM Rosh Hashanah and Yom Kippur Hospitality 2017 FORM
High Holidays 5778
The High Holidays are fast approaching!
Click here for more information on the upcoming holidays, seat registration (opens August 1st), membership renewal, times, holidays programs, babysitting arrangements, etc.!
Shana tova to all our members and friends!
Child Care Services during High Holidays
Congregation Kadimah Toras-Moshe is pleased once again to offer babysitting for children 6 months old and up on the High Holidays. Babysitting offers a supervised, safe play space.
HOURS: 10:00AM-2:00PM on Rosh Hashana (Day 1 & Day 2) & Yom Kippur.
Light snacks and drinks will be provided. Lunch will be provided on Yom Kippur only to allow the parents to daven longer while their children can enjoy lunch upstairs in the shul.
Parents need to connect with the babysitter when they drop off their chid(ren). Discuss food allergies or other information the babysitter should be aware of. You should remain on the premises during the entire time your child(ren) is/are registered with the childcare providers. Since there is a limited number of children we can accommodate, we need to know as soon as possible to have babysitters in place. And, I need to know the exact count for lunch, snacks and beverages.

To register your child(ren) for babysitting, CLICK HERE. Please let us know no later than September 12.
If your guest's children need babysitting services, or if you have any questions please contact Cheryl Sisel at cheryls18@aol.com.
Rabbi Abraham Halbfinger Memorial Book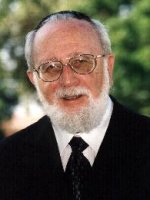 7 Tishrei marked the fourth yahrzeit of Rabbi Abraham Halbfinger zt"l.
A book was published in his memory consisting of divrei torah from many of the now grown men and women who attended Kadimah-Toras Moshe in their youth, words of tribute from community leaders, and words of comfort from the Halbfinger family.
If you are interested in having a copy, please contact Rabbi Benjamin Houben (617) 903-3218 in the Boston area or Rabbi Jonathan Krimsky, if you are out of town.
There is a suggested donation of $18 for the volume. All proceeds go to the Rabbi Abraham Halbfinger Memorial Fund (information about the fund is included in the book).
---
Now is the time to join KTM or renew your membership
Now is the time to join KTM or renew your membership!
Current members, click here to pay your annual membership dues directly.
Prospective members, click here to apply for membership.
---
Sisterhood membership
We would also like to ask our members to contribute to the Sisterhood Fund by paying their Annual Sisterhood Membership fee.
Check your mailbox or click here to learn more about the achievements of our active Sisterhood and pay your membership fee.
---
Thu, September 21 2017 1 Tishrei 5778