Kadimah-Toras Moshe
High Holidays 5777
The High Holidays are fast approaching!
Click here for more information on the upcoming holidays, seat registration, membership renewal, times, holidays programs, etc.!
Shana tova to all our members and friends!
For High Holidays Seats Registration please click here.
To view our services schedule please follow the links bellow:
For our Yamim Noraim schedule please follow this link.
For Sukkot, Snimi Atzeret & Simchat Torah times, please click here.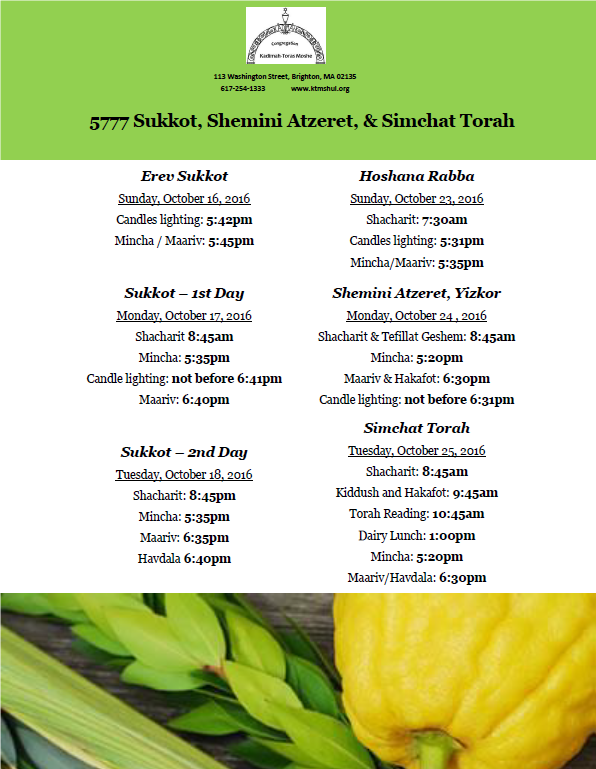 ---
Congregation Kadimah-Toras Moshe and
the Center for Modern Torah Leadership present an
Aseret Yemei Teshuva Program
Thursday, October 6, 2016 from 7:30-9pm.
With Rabbis Aryeh Klapper, Noah Cheses, and Jason Strauss.
Topics include teshuva in the view of the Talmud, Rav Avraham Yitzchak HaKohen Kook, and Rav Aharon Lichtenstein.

Event is free and open to all.
Special Selichot program
Saturday night, September 24
JOIN US!
11:15pm - Introduction & d'var Torah by Rabbi Jason Strauss
Followed by kumzitz & introduction to the music of the High Holidays with KTM's High Holiday Ba'al Tefilah, Dr. Jesse Hefter
12:00am - Midnight Selichot Service
Rosh Hashanah Storytelling with Andrea Kamens
For children 3-13, with babysitters, singing and prayers for the younger kids. Caregivers welcome to stay and engage, or join services downstairs. Includes a Kosher Shofar blowing both days.
If you are not attending services at KTM, please sign up for the storytelling programs with a $18 family donation requested/day here. Drop-ins welcome!
To register, please click this link.
To see the flyer follow this link.
---
Yizkor Book 5777 (2016-2017)
Our congregation prints a booklet with the Yizkor prayers and a list of individuals who we remember in a special way with those prayers. We use this booklet throughout the year, and we would like to include the names of the people that you wish to remember. The Yizkor prayers are printed in the book in Hebrew, English and Russian, enabling everyone to fully participate.
The cost is $25 to participate and that includes listing three names. Additional names can be listed for $5 each. Filling the form on line will allow you to pay by credit card, and will allow us to process your form and donation more quickly. However, if you prefer to pay by check, you may fill out the enclosed form and return it with a check to the KTM office by September 19. Please be sure to write "yizkor book" in the memo line, and to include your telephone number and an email address so that if necessary, we can check the spelling or answer any question me might have.
To participate in the Yizkor book please follow this link.
---
Rabbi Abraham Halbfinger Memorial Book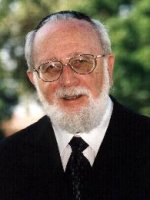 7 Tishrei marks the fourth yahrzeit of Rabbi Abraham Halbfinger zt"l.
A book was published in his memory consisting of divrei torah from many of the now grown men and women who attended Kadimah-Toras Moshe in their youth, words of tribute from community leaders, and words of comfort from the Halbfinger family.
If you are interested in having a copy, please contact Rabbi Benjamin Houben (617) 903-3218 in the Boston area or Rabbi Jonathan Krimsky, if you are out of town.
There is a suggested donation of $18 for the volume. All proceeds go to the Rabbi Abraham Halbfinger Memorial Fund (information about the fund is included in the book).
---
Now is the time to join KTM or renew your membership
Now is the time to join KTM or renew your membership!
Current members, click here to pay your annual membership dues directly.
Prospective members, click here to apply for membership.
---
Sisterhood membership
We would also like to ask our members to contribute to the Sisterhood Fund by paying their Annual Sisterhood Membership fee.
Check your mailbox or click here to learn more about the achievements of our active Sisterhood and pay your membership fee.
---
Sat, 1 October 2016 28 Elul 5776